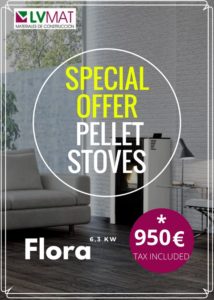 Ferlux's FLORA pellet stove  is a high-end heating system produced with the latest technology which ensures ultimate quality. This system will allow you to enjoy the warmth of the fire with complete safety.
The FLORA model has the following specifications:
Colour: bordeaux, white and black.
Measures: 420 x 516 x 900.
Weight: 90 kg.
Burner: made of refractory stainless steel.
Fuel type: Pellet
useful thermal power: 6,3 / 7,8 kW
Volume that can be heated: 195 m³
Smoke outlet diameter: 8 cm
Remote control: Yes
It also possesses an easy to use cleaning system which will allow you to clean the burner in just 1 minute. It is suitable for homes up to 90 m2 thanks to its 85% burning performance.
With the purchase of one our pellet stoves, every five bags of pellet
¡TAKE ONE FOR FREE*!